Introduction
When it comes to mascara, I'm a total pro. From waterproof formulas to volumizing wands, I know how to pick and choose the right one for my needs (and let's not even get into the different colors!). Sure, there are tons of types of mascaras out there, but knowing which one will deliver the best look can be tricky. That's why I'm here to take you through a comprehensive guide on how to choose your perfect mascara.
Mascaras come in all shapes and sizes. There are lengthening formulas, curling ones, long-wearing mascaras – the list goes on. Some are made for special occasions and some for everyday wear. It can be overwhelming trying to decide which type is best for you. But don't sweat it – I'm here to go over the tips & tricks for finding your ideal mascara!
For starters, there's no one-size-fits-all solution when it comes to mascaras. You've gotta take into account eye color, skin tone, hairstyle, and occasion. So let's get crackin' and learn how to pick the right mascara for every situation. With my help, picking the right mascara will be a cinch!
Consider Your Eye Color
If you're looking to show off your beautiful eyes, the go-to choice is picking a mascara color that'll make them pop. Luckily, choosing the right shade doesn't have to be complicated. It all depends on your eye color! Brown eyes? Opt for blues, purples, and coppers. These shades will bring out the warm tones that are already there, helping brown peepers sparkle and shine. Got green eyes? You can never go wrong with a brown or navy hue. This cool combo will add depth and dimension while showing off your true colors. Plus, they work well with any look—from day-to-day casual to glitzy glam. Blue-eyed folks should choose greens and ambers. These subtle shimmers call attention to your eyes in the best way possible. They'll give your gaze a major lift without being too overpowering. For those rockin' hazel eyes, reach for mauves, plums, and charcoals. These darker shades really bring out the golden flecks in your eyes, making them twinkle like stars. No matter what color your eyes are, it's important to remember that mascara isn't just an everyday essential—it can be your secret weapon for bringing out the beauty you already have. So, don't be afraid to experiment with different colors to find the one that looks best on you!
Consider Your Skin Tone
When it comes to choosing the right mascara color, you may not have considered skin tone as an important factor. But believe me, it should be!Your skin's natural tone will influence which colors work best for you and can help you choose the perfect mascara that compliments your overall look. First up, understand what kind of skin tone you have. Whether it's light, medium, or dark, knowing your skin tone is key in picking out the perfect shade of mascara. Light skin tones tend to look great with a wide range of colors. Opt for lash-boosting shades such as browns and purples for a subtle enhancement. If you want more of a dramatic effect, try burgundy or deep purple. Meanwhile, if you're looking for a simple and neutral shade, opt for grey or black mascara. Medium skin tones also have a lot of options available. Try using shades of blue, silver, and green to really make your eyes pop. Or, go for beige or honey-colored mascara for a softer, more natural look.Dark skin tones can utilize vibrant, bold colors to turn heads. Reach for rich blues and greens during the day and switch to sunkissed bronzes and rust colors for a night on the town. Once you've identified your skin tone, don't be afraid to experiment with different colors. After all, everyone can rock a bold look – so long as you pick the right hue for your complexion. Don't let fear keep you from trying something new – it could end up being your signature look!
Consider Your Hair Color
When deciding which color mascara to go with, don't forget to consider your hair color. You want to make sure that the hues you use don't clash – after all, you don't want to look like a hot mess when you step out of the house. So what's the right formula to choose the right mascara color for your hair?
If you've got lighter locks, stick to neutral shades and nudes. They work great to open up your eyes and emphasize the natural beauty of your color. Or, if you're in the mood for something bolder, try rich browns, taupes, or dark blues. The key here is to use shades that complement your hair hue.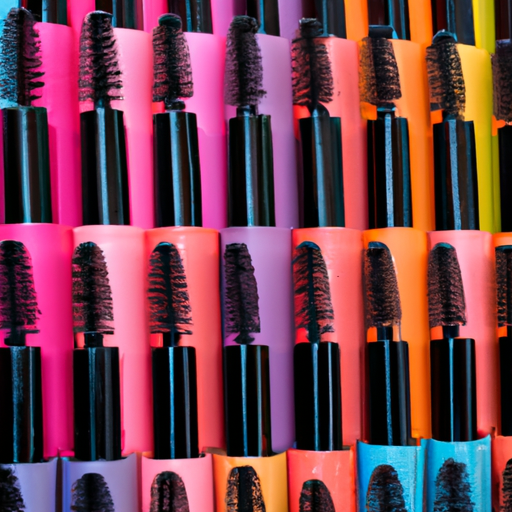 If you've got darker hair, you can go for vibrant and exciting colors. Stick to warm tones like burgundy and plum; I'm sure you'd be able to rock it! Reds and purples are also great choices for bringing out your features, just go with those that suit your hair color best. But no matter what shade you go for, the trick is to make sure that it looks balanced, blending in perfectly with your style.
Consider the Occasion
When it comes to choosing the right color mascara, it's important to consider the occasion. If you're headed out for a night on the town, you may want to go with a bold, dramatic look that requires a darker shade of mascara to really make your eyes pop. If you're going to work or spending time during the day, however, you may want to keep your makeup more subdued and opt for a natural, more toned-down shade such as brown or taupe. No matter what kind of occasion you're attending, one thing's for sure: your lashes are the star of the show, so don't be afraid to experiment! Try different colors to get the best effect, from smoky grays to deep charcoals and even vibrant blues. You'll be amazed at how great you can look with the right hue on your lashes. And don't forget, a light coat of mascara goes a long way — no need to go overboard!
Conclusion: Summary of Tips for Choosing the Right Color Mascara
When it comes to picking the perfect mascara color, there's a lot to consider. Whether you're looking for something subtle or bold, choosing the right shade doesn't have to be so complicated!
First things first, take your eye color into account. Generally, when you're matching eyeshadow and mascara shades, stick to those that are neutral or cool-toned. Light-colored eyes look great with black, brown or navy mascara, while dark eyes can go for more vivid shades like purple or blue.
From there, decide what kind of look you want to go for considering your skin and hair tone as well. If your complexion is lighter, opt for warm tones such as bronze, copper, or rose gold. If you're rocking a darker complexion, try richer and deeper shades like deep blue, green, or plum. Lastly, if you're not sure what color to pick, a classic black or brown is usually hard to beat.
Finally, consider the occasion. If you're going out for date night or attending a friend's special event, go for a bolder hue. However, if you're just running errands or headed to work, stick to something more subtle like a chocolate brown or rich navy.
So there you have it! With these tips in mind, you should now feel confident enough to pick the best mascara color for your look. Go forth and rock that dreamy mascara look you always wanted!
FAQs on Mascara Color
How do I find the right mascara for my eyelashes?
Choosing the right mascara can be difficult. I've seen plenty of women come out of the beauty store empty-handed, feeling totally lost when it comes to finding the perfect match. But it doesn't have to be so hard!
First and foremost, I recommend you look for a color that will complement your eyelashes. Think of your lashes as art–each strand, curl, and color deserves to be taken into account.
If you have darker eyelashes, you'll want to opt for a mascara that's darker than your lash color. Avoid lighter colors, as they won't add any volume or length. Instead, look for a brown, black or dark gray hue, which will add depth and definition to your lashes.
On the other hand, if you have lighter lashes, go for a mascara that's a few shades lighter than your natural color. Lighter colors will help bring out the beauty of your lashes, making them look long and luscious. Try out a light brown, dark blond, navy or burgundy color.
Finally, no matter the color, always look for a mascara that's clump-free, hypoallergenic, and water-resistant. These qualities will ensure that your mascara stays on all day without smudging or flaking.
In the end, finding the perfect mascara is all about taking into consideration your eyelashes and finding a color that'll enhance their natural beauty. With a few simple tips, you'll be sure to find the best one for you!
Should I wear clear or black mascara?
Well, that's a tough question! A lot of it depends on the look you're trying to achieve. If you're going for a natural, everyday look, then clear mascara is the way to go. It will give you subtle definition and lift without dramatically changing the color of your lashes. A black mascara is best for a more dramatic look, as it will add drama and length.
If you're trying to decide between a brown mascara or a black one, it really comes down to personal preference. Brown is a softer option, while black will create more volume and intensity. I usually like to opt for a deep brown shade to give my lashes a subtle boost, but sometimes a deep, dramatic black mascara can do wonders!
It's also important to consider the type of mascara you're using. A waterproof mascara will offer more coverage, while a non-waterproof mascara is better for a more natural look. Lastly, don't forget to consider the shape and size of your eyes when selecting a mascara. If you have small eyes, avoid volumizing mascaras as this will overwhelm them.
In the end, it really comes down to trial and error. Have fun experimenting with different shades until you find the one that's best for you!
Is black or brown mascara better for pale skin?
Well, it all depends on the look you're going for. For example, if you want something softer, then black mascara usually isn't the best choice. Brown mascara can give you a more natural, subtle look. But if you're looking for a bolder, more dramatic look, then black mascara may be the way to go. Ultimately, it comes down to what you're comfortable with – go with what you think looks best!
You also want to consider your skin tone when choosing mascara. If you have pale skin, then warmer tones can be more flattering and natural, while darker skin tones may look better with deeper, cooler colors. For example, opt for a deep brown or a black-brown mascara if you have pale skin.
Finally, experiment with different colors and formulas, such as volumizing, lengthening, and curling, to find the perfect look. Don't be afraid to try something new. After all, it's all about having fun, learning what works for your look, and expressing yourself!