The Lowdown on Primer: Why It's Crucial for a Matte Makeup Look
Hey there! If you're a makeup lover like me, you know that a matte finish is all the rage right now. But did you know that the key to achieving a flawless matte look lies in the foundation – or should I say, the primer?
That's right, folks. Primer is a crucial step in any makeup routine, but especially for achieving a matte finish. It might seem like an unnecessary step, but trust me – it makes all the difference. Here's why:
Firstly, primer helps to fill in any pores or fine lines, creating a smooth and even surface for your foundation. Secondly, it helps to control excess oil and shine, which is essential for a matte look. And finally, it helps your makeup last longer throughout the day, meaning you won't have to worry about touching up your foundation every hour.
But not all primers are created equal. In order to achieve a flawless matte look, it's important to choose the right one for your skin type and concerns. Don't worry, though – I've got you covered with some tips and tricks on how to choose the perfect primer for you.
Choosing the Right Primer: Don't Skip This Crucial Step
Alright, guys, let's talk about choosing the right primer for your skin and makeup look. I know it can be overwhelming with so many options out there, but trust me, taking the time to choose the right primer for your skin type and makeup goals will make a huge difference in the overall finished look.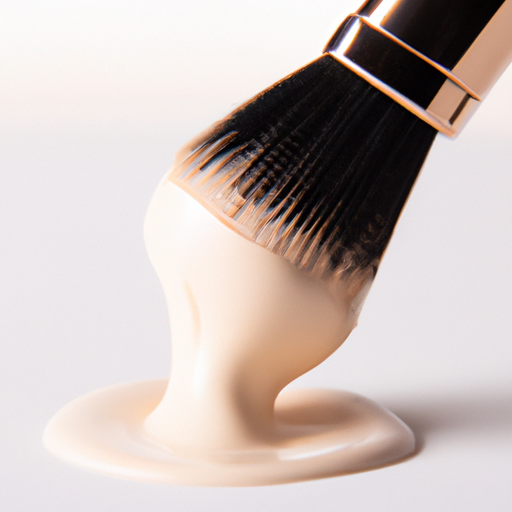 First things first, consider your skin type and the finish you want. For example, if you have oily skin and want a more matte finish, look for a primer specifically formulated for oily skin and mattifying properties. On the other hand, if you have dry skin and want a more dewy finish, opt for a hydrating primer. It's also important to consider any concerns you may have, such as redness or fine lines, and choose a primer that addresses those concerns.
Another factor to consider is the type of foundation you'll be using. If you're using a silicone-based foundation, it's best to use a silicone-based primer. If you're using a water-based foundation, it's best to use a water-based primer. This will ensure that the products work well together and don't cause any separation or patchiness.
My personal go-to primer is one that has added skincare benefits, such as one with hyaluronic acid to hydrate and plump the skin. Remember, your primer not only helps your makeup stay on and look flawless, but it's also a great opportunity to provide additional skincare benefits to your skin.
Don't be afraid to experiment with different primers until you find the perfect one for your skin type and makeup goals. Trust me, taking the time to choose the right primer will make all the difference in achieving a flawless, matte makeup look.
Prepping my skin for a flawless matte makeup look
So, you've decided to rock that matte makeup look and you know you need primer. But before you start slathering on any products, it's crucial to prep your skin properly to ensure a flawless result. Here's how I get my skin ready:
Washing my face
The first step to preparing my skin is washing my face with a gentle cleanser. This cleanses away any dirt, oil, and impurities that may be lurking on the surface of my skin. I use lukewarm water and pat my face dry with a clean towel.
Applying moisturizer/sunscreen
Next, I use a lightweight moisturizer or sunscreen to hydrate and protect my skin. Applying these products before primer ensures that my skin is properly moisturized and reduces the occurrence of flaking or dryness.
As VM Makeup & Hair suggests, be sure to give your skin enough time to absorb the moisturizer and sunscreen before applying primer.
By following these simple steps, my skin is prepped and ready for primer application and the rest of my makeup routine.
Applying Primer: The Key to a Flawless Matte Makeup Look
Alright, let's get down to business. Applying primer is a crucial step in achieving that pristine matte makeup look you've been dreaming of. Trust me, I've learned the hard way, skipping out on primer will lead to a cakey, patchy disaster that no amount of foundation can conceal.
But fear not, applying primer is a simple process that can make all the difference. Begin by selecting a primer that suits your skin type and concerns, whether it's oil control, pore minimizing, or color correcting.
Remember, before you slather on that primer, it's important to clean and moisturize your face first. A clean canvas is vital in achieving a seamless application and lasting effect. After washing and moisturizing, apply a small amount of primer to the center of your face and blend outwards.
When applying primer, less is more. Only use as much as necessary to cover the surface of your face. It's easy to get carried away with the product, resulting in a slick and greasy feel. Allow your primer to settle in for a minute before applying foundation and concealer.
And voila! You're on your way to a flawless matte makeup look that will last all day.
Finishing Touches: Let's Set That Makeup!
Alright, now it's time to finish off that beautiful matte makeup look. First things first, let's apply the foundation and concealer. Make sure to blend well and go light on the foundation. We don't want to cake it up! After that, grab a powder puff or a brush and set it with powder. This will give you that nice matte finish we're going for. Now, I'm going to share a little secret with you. If you want your makeup to last all day, try using a setting spray. This will keep everything in place and prevent it from budging. I swear by setting sprays, especially during the hot summer months. Just give your face a little spritz and you're good to go. Finally, let's not forget about the eyebrows. You can either use a clear or tinted brow gel to keep the hairs in place. And there you have it, a beautiful and flawless matte makeup look that will last all day. Remember, a good primer is essential to achieving this look, so don't skip that step!
Wrap It Up: The Importance of Primer for a Matte Makeup Look
And there you have it, folks! That's the end of our journey into the world of matte makeup achieved with the help of primer. It's been a pleasure taking you through the steps and guiding you towards a flawless finish.
Before we part ways, let's do a quick recap. Primer is an essential step in achieving a long-lasting matte makeup look. It smooths out the skin's surface, creating a seamless canvas for foundation and concealer application. Choosing the right primer is crucial, as it should meet your skin's specific needs and address any concerns you may have.
Prior to applying primer, it's important to properly prepare your skin by washing your face and applying moisturizer/sunscreen. Then, when applying the primer, be sure to do so correctly to ensure maximum effectiveness. After foundation and concealer application, setting the makeup with a powder can help ensure a long-lasting matte finish.
So, there you have it! By following these steps and including primer in your makeup routine, you'll no doubt be able to achieve the matte makeup look of your dreams. Thanks for coming on this journey with me, and happy priming!