Hello, Gorgeous! Let's Master the Art of Smokey Eye
Hey there, lovely lady (or gent)! Are you ready to create some sultry magic with your eyes? Let's dive into the world of smokey eye makeup, where a little smudging and blending can transform your look from plain Jane to captivating queen!
First things first, let's define what a smokey eye is. It's a makeup technique that involves darkening the crease and outer corner of your eyes with shades of black, grey, or brown to create a smoldering effect. If done correctly, this look can make your eyes pop, enhance your natural beauty, and reflect your inner confidence.
If you're new to the world of smokey eyes, fear not, my dear! A little guidance, some simple steps, and a few tips and tricks can help you become a pro in no time. Let's explore the various benefits of mastering the art of smokey eye, shall we?
For starters, the smokey eye look is versatile and perfect for any occasion, from a night out with friends to a special date night. It can help you experiment with different shades and textures of eyeshadow, making it a fun and creative process. Mastering this technique can also boost your confidence and make you feel empowered and beautiful.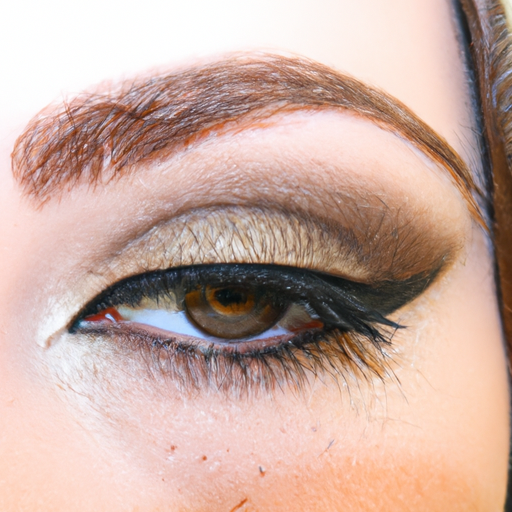 So, what are you waiting for? Come, let's embark on a journey to create some stunning smokey eye looks that'll make heads turn!
Jumpstarting Your Smokey Eye Game: A Beginner's Step-by-Step Guide
Alright peeps, let's get ready to glam up and take it up a notch with the timeless, sophisticated, and sexy smokey eye look! Nothing says "I've got this" more than pulling off a smokey eye, and that's exactly what I am here to help you achieve! Strap on those eyelash curlers, grab your kits, and let's get started on creating a killer look with minimal steps!
Gather Necessary Tools and Products
Before we get started, it's important to have all of the necessary tools and products. This includes an eyeshadow palette with dark, medium, and light shades, primer, eyeliner, mascara, and brushes to correctly apply the products. Remember, quality over quantity is always better when it comes to beauty products. It's also essential to take the time to prep your skin by using a gentle cleanser and toner to create a clean canvas.
Start with a Primer
Once your skin is prepped, start by applying a primer that's designed specifically for the eyes. This step will not only help your eye makeup adhere better and last longer, but it'll also prevent creasing. Apply a small amount onto your eyelids and blend it out with your fingers.
Create the Base
Now it's time to create the base for our smokey eye. Using a light shade, apply it all over your eyelid, up to your brow bone, to create a neutral canvas. Make sure to blend out any harsh lines and to use a fluffy brush for a softer look.
Add Dimension with Shadows
This is the most exciting part – adding dimension to your blend. Pick a medium shade and apply it to your lid and crease, blending it out with a brush. Then, using a dark color, apply it to the outer corner of your eyelid, making sure to blend it inwards for a natural transition. Don't forget to blend, blend, blend, and use your brushes to feather out any harsh lines. Repeat this step with some darker colors until you achieve your desired look.
Finishing Touches
Once your shadow is blended to perfection, it's time to add eyeliner. Take an eyeliner pencil and line your top lash line, smudging it with a brush for a subtle and sultry look. Finish off by applying mascara to your lashes carefully. Remember to curl your lashes beforehand, or invest in a heated lash curler for a dramatic effect.
Tips and Tricks to Make Your Smokey Eye Pop
Here are some tips and tricks that I swear by for achieving the perfect smokey eye:
Choose Colors that Complement Your Skin Tone
Choose colors that complement your skin tone. Warm-toned colors are great for the fair skin, whereas cooler tones are fantastic for olive and darker skin tones. It's always best to experiment and find out what works for you.
Blend, Blending and Blending
The secret to a sexy smokey eye is blending. Don't be afraid to use your brush till perfection and blend out the colors!
Use an Eyeliner Pencil to Smudge
To achieve that infamous sultry smokey finish, use an eyeliner pencil to line your upper lash line and smudge it with a brush. It'll create a dramatic and smoldering finish to your look.
Keep Your Lashes Clump-Free
Lastly, keep your mascara clump-free to make your lashes pop. It'll complement your smokey eye look and add an extra touch of glam to your final look.
In Conclusion: Smokey Eye, Mastered!
Congratulations! You are now a pro in creating the timeless and sexy smokey eye look. Remember, with the right tools, colors, and technique, you can achieve this sophisticated and sultry look effortlessly and quickly. So go ahead and make heads turn with your new, mastered, smokey eye knack!
Tips & Tricks for Nailing the Smokey Eye Look
Alright, ladies and gents, let's talk tips and tricks for mastering the art of the smokey eye! As someone who has struggled with this style in the past, I've learned a thing or two about how to make it work. Here are some of my favorite pieces of advice.
Choose Colors that Suit Your Skin Tone
When it comes to the smokey eye, not all shadows are created equal. If you have fair skin, avoid shades that are too dark or harsh, as they can overwhelm your features. Instead, opt for lighter, cooler tones like grays and silvers. If you have a warmer complexion, browns and coppers will be more flattering on you.
Blend, Blend, Blend
This cannot be stressed enough: blending is key to achieving a seamless smokey eye. Use a fluffy blending brush to soften the edges of your eyeshadow and create a natural-looking gradient. Don't rush this step, as it can make all the difference in the final result.
Use an Eyeliner Pencil to Smudge
If you want to intensify your smokey eye, try using an eyeliner pencil to smudge your eyeshadow along your lash line. This will create a smoldering effect that's perfect for a night out. Just be sure to use a gentle hand and blend well for a diffused look.
Keep Your Lashes Clump-Free
One mistake that many people make when wearing a smokey eye is to go too heavy on the mascara. While you do want to add some volume and length to your lashes, too much product can look clumpy and overpowering. Instead, opt for a lengthening mascara and use a lash comb to separate any clumps.
Overall, nailing the smokey eye takes practice, but with the right tools and techniques, anyone can achieve this sultry look. And if you're looking for a step-by-step guide to get you started, check out this tutorial for beginners that I found helpful. Good luck and happy smudging!
Bottom Line: Mastering the Art of Smokey Eye
As a makeup enthusiast, I cannot stress enough how powerful a well-executed smokey eye can be. Not only does it add drama and allure to any look, but it can also work for many different occasions, from a night out with friends to a job interview.
So, to achieve a perfect smokey eye look, the first step is to gather all the necessary tools and products – trust me, having the right ones is essential in making your life easier. After applying a primer, you should create the base color, and then gradually work on adding depth and definition with different shades of eyeshadow. Remember, blending is critical to achieve a seamless transition from one color to another, and a smudged eyeliner pencil can add even more depth to the look.
But, it's not just about the technique – choosing the right colors for your skin tone is essential in making your eyes truly stand out. Always aim for a color combination that flatters your natural features and enhances your unique beauty. And, don't forget about the finishing touches – keeping your lashes clump-free and adding a touch of light shimmer can seamlessly tie the whole look together.
Overall, the smokey eye look requires some practice and patience, but once you've mastered it, you will be amazed at how versatile and empowering it can be. So, keep experimenting, don't be afraid to step out of your comfort zone, and always trust your gut when it comes to your unique style and beauty preferences. Happy blending!