First Things First: What is Setting Powder?
Hey there, makeup lovers! If you're anything like me, you're constantly on the lookout for products that can help you achieve a flawless, long-lasting look. That's where setting powder comes in. For those who don't know, setting powder is a type of finely-milled powder that's used to lock your makeup in place, control shine, and create a matte finish. It's a must-have in any makeup bag if you want your look to last all day (or all night!).
But why use setting powder instead of just letting your foundation and concealer do the work? The answer is simple: it helps prevent your makeup from melting off or creasing, especially in areas that tend to get oily or sweaty, like the T-zone. Plus, it can give you a more polished, airbrushed look that sets the stage for the rest of your makeup.
So if you're looking to step up your makeup game and achieve a flawless, long-lasting finish, keep reading to learn all about the magic of setting powders!
Want to learn more about creating a matte look with your makeup? Check out this post from VM Makeup & Hair for more tips and tricks!
Types of Setting Powder: Loose, Pressed, and Translucent
When it comes to setting powders, there are a few different types to choose from. Depending on your skin type and personal preference, certain types may work better for you than others.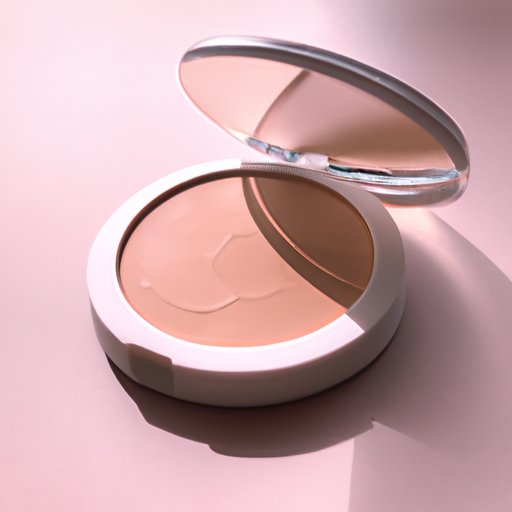 Loose powder is a popular option for setting makeup because it is easy to apply and can provide a natural finish. It typically comes in a container with a sifter that helps control the amount of product that comes out. To apply, simply dip a brush into the powder, tap off the excess, and dust it over your face.
Pressed Powder
Pressed powder is similar to loose powder, but it's in a compact form. It's a great option for touch-ups throughout the day because it's easy to carry around. To apply, use a brush or makeup sponge to pick up the powder and sweep it over your face.
Translucent Powder
Translucent powder is a colorless option that can work well for all skin tones. It helps to set makeup without adding any additional color or texture. To apply, use a large powder brush to sweep the translucent powder over your face.
When deciding which type of setting powder to use, it's important to consider your skin type and the finish you want to achieve. Experiment with different types and see what works best for you!
Get the Perfect Matte Look with Setting Powder: Here's How to Apply it
Now that you've chosen the right type of setting powder for your skin type, it's time to learn how to apply it properly. With just a few simple steps, you can achieve a long-lasting matte look that stays put throughout the day.
Prep Your Skin Properly
Before applying setting powder, it's important to prep your skin properly. This means cleansing your face and applying a moisturizer, followed by a primer. This will not only help your makeup look smoother, but it will also help your setting powder adhere better to your skin.
Choose the Right Application Tool
When it comes to applying setting powder, you have a few options. Some people prefer to use a makeup brush, while others prefer a makeup sponge. Whichever tool you choose, make sure it's clean and dry before using it to apply your setting powder. Also, make sure to use gentle, circular motions when applying your powder, to ensure even coverage.
Use the Right Amount of Product
One common mistake people make when using setting powder is using too much product. This can lead to a cakey, unnatural look. Start with a small amount of powder, and build up as needed. Remember, you can always add more powder, but it's harder to remove it once it's on.
Set Your Powder with a Setting Spray
To help set your powder and ensure it lasts all day, consider using a setting spray. Simply spritz your face with the setting spray after applying your setting powder, and voila! Your makeup will stay put and look flawless all day long.
By following these simple steps, you'll be on your way to achieving the perfect matte look with setting powder. Don't be afraid to experiment with different types of setting powder and application techniques until you find the perfect combination for your skin.
4. Tips for Long-Lasting Results: Can't Stand the Heat, Stay Out of the Kitchen!
Let's face it, setting powder is a game changer when it comes to achieving a lasting matte look. But if you want to ensure your makeup stays put all day long, you need to follow these expert tips:
First, start with a small amount of product. Applying too much setting powder can result in a cakey, unnatural finish. A little goes a long way!
Second, use a setting spray in conjunction with your setting powder to help lock in your makeup. This will provide an extra layer of protection against heat, humidity and sweat, ensuring your look stays flawless all day.
Lastly, don't forget to reapply throughout the day for touch ups. Carry a small container of setting powder with you for on-the-go touch-ups, and you'll never have to worry about your makeup melting off your face again!
Remember, when it comes to achieving a lasting matte look, you need to stay cool under pressure. Follow these tips and you'll be able to handle any kitchen that comes your way!
The Big Wrap-Up
Well, there you have it folks, my ultimate guide to setting powder application! As you can tell, I am passionate about this stuff. I firmly believe that setting powder is the key to achieving a truly matte and long-lasting look. To recap, we first defined what setting powder is and talked about its benefits. We then went over the different types – loose, pressed, and translucent – and how to apply each one. This guide wouldn't be complete without some tips on getting the most out of your setting powder, such as starting with a small amount and using a setting spray.Hopefully, my advice has helped you out and made you feel like a setting powder pro. Just remember, finding the right setting powder for your skin type is crucial. And always always always moisturize and prime your face before applying any makeup! So next time you're getting ready for a night out, don't forget to add some setting powder to your routine. Your face will thank you for it.