Get the Perfect Eyeshadow Look with the Right Brush!
Hello there, beauty enthusiasts! Are you tired of struggling to achieve that flawless eyeshadow look? Look no further than the trusty eyeshadow brush. This versatile tool is the key to creating stunning eye looks, from bold and dramatic to subtle and natural. But with so many types of eyeshadow brushes out there, how do you choose the right one for you?
First, let's define what an eyeshadow brush is. Simply put, it's a small brush designed to apply and blend eyeshadow onto your eyelids. Its purpose is to help you achieve a smooth and even application of eyeshadow, as well as to allow for precise placement and blending.
Get Your Eyeshadow Game On: Types of Brushes to Use
Now let's dive into the different types of eyeshadow brushes available and discover how they can elevate your eye makeup game.
Flat Brushes
Flat brushes are perfect for packing on color, making them ideal for applying eyeshadow to your lids. They come in varying sizes, so you can tailor your brush choice to your eye shape.
Tapered Blending Brush
Tapered blending brushes are essential for blending colors together seamlessly. They have soft, fluffy bristles and are shaped to fit perfectly into your socket line. They're perfect for achieving a smokey eye and doing precise blending work.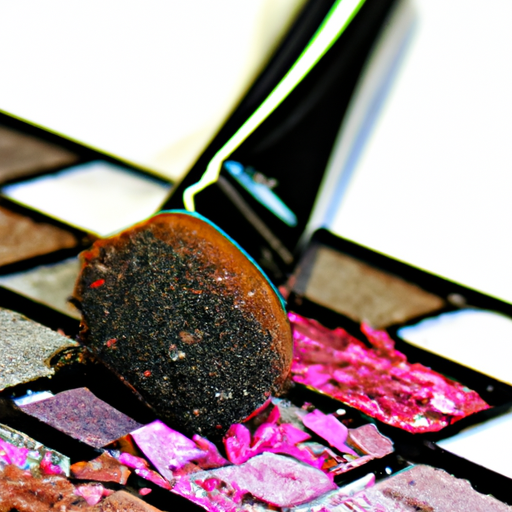 Angled brushes are amazing for precise detailing. They're ideal for lining the lower lash line with eyeshadow or creating a winged liner.
Dome Brush
Dome brushes are rounded brushes ideal for applying eyeshadow to the crease. They're great for creating depth in your eye look.
Pencil Brush
Pencil brushes are perfect for detail work, like applying eyeshadow to the inner corner or lower lash line. They're small and compact, making them perfect for doing precise work.
Smudge Brush
Smudge brushes are ideal for smudging and blending out eyeliner. They help soften the harsh lines of your eyeliner and give a more effortless look.
Now that we've gone through the different types of eyeshadow brushes, you can choose the best brush for whatever look you're trying to achieve. Happy experimenting!
How to Pick the Perfect Eyeshadow Brush for Your Eye Shape
As a makeup enthusiast, I know that selecting the right eyeshadow brush is just as important as having a good quality eyeshadow palette. Not all brushes suit every eye shape, so following these steps will help you find the perfect brush that will enhance the shape of your eyes.
Step 1: Consider the size and shape of your eyes
The first step is to examine the shape of your eyes. If you have small eyes, you will need a smaller brush, while those with bigger eyes require a larger brush. For hooded eyes, use a tapered blending brush to create depth and dimension. For upturned eyes, use an angled brush to add definition on the outer corners. Those with round eyes can use a flat brush to add color all over the lid. A pencil brush is perfect for deep-set eyes, to add color to the crease.
Step 2: Pay attention to the bristles
The quality of the bristles is also an essential factor to consider. The bristles determine how much product the brush will pick up and how it will apply. Choose synthetic bristles if you want to use cream or liquid eyeshadows. For powder shadows, natural fibers like goat hair work best. The bristle's density adds more control and precision to your application.
Step 3: Select the type of brush based on the desired look
If you're aiming for a smoky eye, use a dome brush for blending. A flat brush can be useful for applying a base color all over the lid. The tapered blending brush is excellent for transitions and blending, while the pencil brush is ideal for creating a sharp and precise line for the lower lash line. The smudge brush is perfect for creating a smudged look.
By following these three steps, you'll have no trouble finding the ideal eyeshadow brush for you. Selecting the ideal brush will make a huge difference in your makeup game, allowing you to create the perfect eyeshadow look every time!
Benefits of Using the Right Eyeshadow Brush
Let me tell you, using the right eyeshadow brush can make all the difference when it comes to achieving a flawless eye look. Here are some benefits I've noticed since using the right brush:
First and foremost, it makes the application process so much easier. The right brush allows you to pick up the right amount of product and glide it smoothly onto your lids without any patchiness or unevenness. I've even noticed that it takes less time to do my eye makeup with the right brush!
Another advantage of using the right eyeshadow brush is that it results in a more precise and even application. With a good quality brush, you can achieve an airbrushed finish that blends seamlessly and doesn't leave any harsh lines. This is especially important if you're going for a dramatic smokey eye look like the one in this tutorial – check it out!
Lastly, using the right eyeshadow brush gives you the ability to create different looks. Depending on the type of brush you use, you can achieve a variety of effects – from a sheer wash of color to a bold, intense pigment that really pops. For example, a pencil brush is great for creating precise lines and adding definition to your crease, while a dome brush is perfect for blending out your eyeshadow for a soft, diffused effect.
All in all, investing in the right eyeshadow brush is definitely worth it if you want to up your eye makeup game. Trust me, you won't regret it!
Wrapping it Up: My Final Thoughts on Choosing the Right Eyeshadow Brush
So there you have it, folks! We've covered the different types of eyeshadow brushes, the steps to choose the right brush, and the benefits of using the correct one. But let me tell you, using the right eyeshadow brush is truly the missing piece to perfecting any makeup look.
In my own experience, I found that considering the size and shape of my eyes was crucial in choosing the right brush. Another important factor to consider is the type of bristles, as this can determine the precision and evenness of the application.
With the right brush, you'll see an improvement in the ease of application, the precision of the results, and the ability to create a variety of looks. So whether you're looking to achieve a subtle glam or a bold statement, the right eyeshadow brush can help you get there with ease.
All in all, picking the right brush is an exciting process that can really take your makeup game to the next level. So take the time to experiment and find what works best for you!