Why Matte Finish Makeup is my Holy Grail
Hey there, beauty lovers! Are you tired of cakey, shiny makeup that looks like it's melting off your face by noon? I know I was. That's why I switched to matte finish makeup and haven't looked back since. Let me tell you why.
Firstly, let's define what we mean by "matte finish" in makeup terms. It's basically a type of foundation that has a non-shiny or non-glossy finish and provides a natural-looking texture to your skin. Unlike dewy or glowing finishes, it leaves your skin looking smooth, velvety and shine-free.
The benefits of using matte finish makeup are numerous. For starters, it lasts longer and is more suitable for oily or combination skin types. This type of foundation is perfect for those who prefer minimal, natural-looking makeup that enhances their skin tone without making it look overly done up.
When it comes to choosing the right matte foundation, there are plenty of options out there. Drugstore brands like Maybelline or L'Oréal offer affordable and effective options, while high-end brands like NARS and Giorgio Armani provide luxurious formulas that deliver long-lasting results.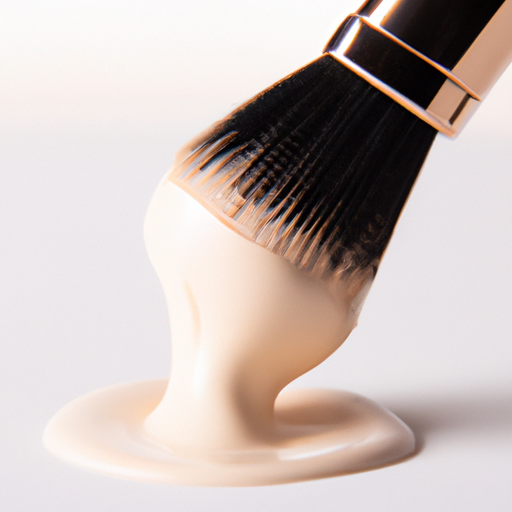 To achieve the best results, it's crucial to prepare your skin properly by cleansing, toning and moisturizing it beforehand. And when it comes to applying the foundation, don't be afraid to experiment with different tools like brushes, sponges or even your fingers to find what works best for you.
Overall, switching to a matte finish foundation has been a game-changer for me. Not only does it make my skin look better, but it's also a low-maintenance and easy-to-use option that saves me time and money in the long run. So if you're considering making the switch, I'd highly recommend it – your skin (and wallet) will thank you!
Blessed with Matte Finish: Why it's the Best for Me!
Let me tell you, I'm all about the matte finish when it comes to my foundation. I've tried dewy finishes and satin finishes and while they look great on some people, they just don't work for me. Here's why I swear by the matte finish:
First of all, matte finishes have an unparalleled longevity. See, I'm not one for touch-ups during the day so when I apply my makeup in the morning, I want it to stay put until I take it off in the evening. Matte finish foundations last the entirety of my day without me looking like my makeup has slid off my face by noon like it used to with other finishes. Plus, it just looks naturally flawless all day long!
The second reason I love the matte finish is because it enhances my skin tone without looking overdone. It's like my skin, but better. Have you ever seen people with a foundation that clearly does not match their skin tone and it looks like they are wearing a mask? That's not a look any of us want to pull off. Matte finishes allow me to even out my skin tone without looking like I'm wearing a layer of cake batter. It's just natural-looking, which I love.
Of course, finding the right foundation for a matte finish can be tricky. But when you find the right one, it's like a match made in heaven. Personally, I have found some wonderful options both from drugstore brands like Maybelline Fit me matte + poreless foundation and L'Oréal Infallible Pro-Matte foundation, as well as high-end brands like NARS All Day Luminous Weightless foundation and Giorgio Armani Designer Lift foundation. Each one provides a natural-looking matte finish that's long-lasting and perfect for my needs.
When it comes to application, I've picked up a few tricks along the way. It all starts with a good skincare routine to prep your skin for makeup. Then, choose your weapon: fingers, brush, or sponge. Personally, I use both a brush and a sponge for different areas of my face. It really depends on your preference, but once you find your favorite application tool, stick with it!
In conclusion, for me, nothing beats a good matte finish foundation. I've tried other finishes and they just don't give me what I need. Matte finishes are the key to achieving my natural-looking flawless skin that lasts all day. If you're interested in creating your own matte look, check out this handy guide for some tips and product recommendations. Trust me, you won't regret it!
Top Picks for Matte Foundations
When it comes to achieving a flawless matte finish, choosing the right foundation is key. As a makeup artist, I've worked with countless brands and products to find the best options for my clients.
Drugstore Brands
Maybelline Fit Me Matte + Poreless Foundation is perfect for those on a budget. This lightweight formula provides full coverage and helps to reduce the appearance of pores. Another great drugstore option is L'Oréal Infallible Pro-Matte Foundation. This long-lasting foundation provides a natural matte finish and is great for those with oily skin.
High-End Brands
If you're willing to splurge, NARS All Day Luminous Weightless Foundation is worth the investment. This foundation provides a matte finish while still keeping skin looking radiant and luminous. Giorgio Armani Designer Lift Foundation is another high-end option that provides a natural, velvety matte finish.
Remember to always test foundation shades on your jawline and under natural light before making a purchase. It's important that your foundation matches your skin tone perfectly to avoid a cakey or unnatural finish.
Get the Perfect Matte Finish: Application Techniques
Now that you're convinced that matte finish foundations are the way to go, it's time to master the application techniques to achieve that flawless finish. First things first, prepare your skin for the application process by cleaning, toning, moisturizing, and then applying a primer. This helps to minimize pores, improve the texture of your skin, and provide a smooth base for the foundation.
When it comes to application tools, you can use different techniques such as using a brush, sponge, or your fingers. A brush may give you a more airbrushed look, while sponges are excellent for a natural-looking finish. Sponges, especially the Beauty Blender, come in handy if you want to blend your foundation seamlessly. To apply your foundation using a brush, use a stippling motion while holding your brush at a 45-degree angle. Don't forget to blend the edges and your hairline.
If you're using your fingers, dot your foundation on your face then use your fingers to blend it in. Your fingers can warm up the product, making it blend well with your skin. However, make sure your hands are clean to avoid transferring bacteria to your face.
Lastly, to set your foundation, use a translucent powder or a matte setting spray. This will make your foundation last longer throughout the day, absorb any excess oil, and keep your skin looking matte.
Whether you're a beginner or an expert, these application techniques will help you achieve a perfect matte finish. Remember, practice makes perfect, so don't be afraid to experiment with different techniques and products until you find your perfect match.
The Final Thought: Choose the Right Foundation for a Flawless Matte Finish
So, this was all about creating a perfect matte finish look that you can flaunt all day. Using the right foundation is the key to achieving that flawless, long-lasting matte look. You want the perfect coverage without looking cakey and overdone. And now that you know the benefits and popular options, it's time to choose what works the best for your skin.
To prepare your skin, always start with a clean and moisturized face. You might want to use a primer or a mattifying cream to minimize oil production and maximize foundation wear time. When applying the foundation, use a brush, sponge, or even your fingers – whatever works best for you. Remember, with matte finish foundations; a little goes a long way!
The foundation world is vast, and you can find excellent options in both drugstore and high-end brands from around the world. However, before making your purchase, pay attention to the undertones to match your skin's natural color. You don't want to look like you have a mask on!
To summarize, a perfect matte finish foundation gives you a fresh, natural look while enhancing your skin tone. It lasts all day and doesn't look too heavy. So, always choose a foundation that works for your skin type before applying, and you are all good to go!
Now that you know all the tips and tricks, it's time to experiment with different foundations to find your perfect one. Hope you found this guide helpful, and happy shopping and experimenting!