Introducing Matte Makeup: The Secret to Flawless Skin
Hey there, beauties! Are you tired of constantly touching up your shiny makeup throughout the day? Look no further than the magic of matte makeup. Matte makeup refers to products that have a non-shiny, flat finish, giving your skin a velvety texture and natural look. A matte look is not only trendy but also beneficial for those with oily skin, as it controls excess oil secretion, leading to a long-lasting makeup look.
But, achieving a flawless matte look can be tricky. Hence, in this blog, I will guide you through every step of the makeup routine to help you get the perfect matte finish that lasts all day, without any shine or greasiness.
Preparing Your Skin: The Key to a Flawless Matte Look
Before I start my makeup routine, I always make sure to properly prepare my skin. This is the most important step in achieving a flawless matte look that lasts all day. Here are my tips:
Cleansing and Moisturizing
The first step to getting a bold matte look is to make sure your skin is clean and moisturized. Start by using a gentle cleanser to remove any dirt or impurities from your skin. Once you've cleansed, it's essential to apply a moisturizer to hydrate your skin. This step helps your skin to have a smooth and even texture, which is crucial for achieving a great matte look.
Applying Primer
After moisturizing, I always apply a mattifying primer all over my face. This product helps to control oil, minimize pores, and create a smooth base for foundation. I focus on my T-zone and areas where I tend to have excess shine. Primer is an essential step that can make a big difference in the longevity and overall appearance of your makeup.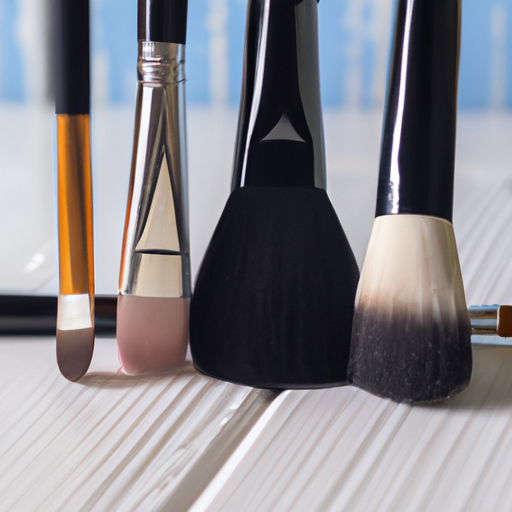 By properly preparing your skin, you'll be able to create a canvas that's smooth, even, and ready for makeup application. Don't skimp on this step – it's worth taking a few extra minutes to get it right.
Get Your Matte Look On: Foundation Routine
Now that we've prepped our skin to perfection, it's time to move on to the foundation routine. This is where the magic happens and your matte look truly comes to life.
Choosing the Right Foundation
When it comes to choosing the perfect foundation for a matte look, you want to go for something with a matte finish. Look for keywords such as "matte," "oil-free," and "long-lasting" on the label. You also want a foundation that matches your skin tone perfectly to avoid a cakey or unnatural look.
Applying the Foundation
When it comes to applying your foundation, less is more, especially with a matte look. Start with a small amount and build up if needed. I like to apply my foundation with a brush, starting from the center of my face and working my way outwards. This helps to prevent any streaking or unevenness.
Blending with a Beauty Blender
A beauty blender is your best friend when it comes to blending out your foundation. I like to dampen mine with water before using it as it helps to blend the foundation seamlessly and avoid any patchiness. Gently dab the beauty blender over your face, paying extra attention to any problem areas, such as redness or blemishes.
With these foundation routine tips, you'll be well on your way to achieving that perfect matte look. Remember, it's all about choosing the right foundation, applying it with a light hand, and blending it out to perfection. Happy makeup-ing!
4. Concealin' and Settin': Hidin' Those Flaws and Keepin' It in Place
Now it's time to cover up any imperfections and seal in that flawless matte look. First things first, pick the right concealer shade – it should be one or two shades lighter than your foundation to brighten up the undereyes and any dark spots on the face. Apply concealer after foundation, dabbing it gently onto the areas that need coverage with a small brush or your ring finger. Don't go overboard, though – too much concealer can end up looking cakey.
Next, it's time to set your makeup to make it stay put all day. Use a translucent powder to lightly dust over the entire face, paying extra attention to the T-zone – the forehead, nose, and chin – which tends to get oilier throughout the day. A fluffy powder brush is your best friend here.
To add some extra insurance against oil and sweat, finish off with a setting spray. This mist helps to lock in your makeup and create a barrier against the elements. Hold the bottle about 6 inches away from your face and spritz a few times in an X-shape motion, then a T-shape motion, making sure to cover every angle.
Remember, setting your makeup is just as important as applying it, especially if you want that matte look to last all day. With a little bit of skill and the right products, you'll be able to keep your face flawless from morning to night.
Adding the Finishing Touches for a Flawless Matte Look
Now that I've applied my foundation and concealer, it's time to finish off my look with some bronzer, highlighter, contour, and blush. These steps really bring the look together and give my face some dimension.
I like to start off with my bronzer, using a large, fluffy brush to apply it along my temples, forehead, cheeks, and jawline. This adds a bit of warmth to my complexion and helps create some shadows for a more sculpted look.
Next up is the highlighter, which I apply to the high points of my face – the tops of my cheekbones, the bridge of my nose, and my cupid's bow. This brings a bit of glow to my skin and makes it look healthy and radiant.
Contouring is key for a matte look, as it helps add definition to the face and make it look more chiseled. I apply a contour powder or cream along the hollows of my cheeks, my jawline, and the sides of my nose to create a more sculpted look.
Finally, I like to add a touch of blush to the apples of my cheeks for a pop of color. I choose a shade that complements my skin tone and blend it out lightly so it doesn't overpower the rest of my makeup.
To set everything in place and ensure my makeup lasts all day, I finish off with a setting spray. This helps keep my face looking matte and fresh, even in the heat of summer or during a long work day.
Overall, these finishing touches are essential for creating a flawless, matte look that lasts all day. With a bit of practice and the right tools, anyone can achieve this trendy makeup look that's perfect for any occasion.
Wrapping it Up: My Final Thoughts on Achieving that Matte Look
Well, we've reached the end of my blog on achieving the perfect matte makeup look. Let me start by saying that in the world of beauty and makeup, there really are no hard and fast rules. If you feel confident and beautiful in a look that veers away from the steps I outlined in this blog, then go for it! But if you're curious about trying out the matte look, then I hope my tips and tricks have helped you.
First things first, remember that the key to achieving a flawless matte look is all in the preparation. Take the time to properly cleanse, moisturize and prime your skin. These steps will help your makeup last longer and blend more seamlessly into your skin.
Next, choose your foundation wisely. Matte formulas tend to dry down quickly, so you need to work fast when blending them out. A beauty blender does wonders in achieving that airbrushed finish. My top tip? Don't forget to blend down your neck so you avoid that dreaded foundation line!
When it comes to applying concealer, my top advice is to start light and build up coverage as needed. Too much concealer can easily look cakey on matte skin. And in setting your look, I always recommend the combo of powder and setting spray for maximum staying power.
Remember that bronzer and highlighter are your best friends when it comes to adding dimension and definition to a matte look. Don't be afraid to try new techniques like contouring to accentuate your features. And last but not least, a good quality setting spray will lock your look in place for hours to come.
Ultimately, the most important thing to remember when going for any look is to have fun with it! Makeup should be a form of self-expression and experimentation. So play around with different techniques and products, and don't be too hard on yourself if something doesn't turn out the way you want it to. Remember, there's always tomorrow to try again!
Thanks for reading, and I hope my tips have been helpful. Now go out and rock that matte look with confidence!
Matte Makeup FAQs
How can I make my face more matte?
Well, girlfriend, making your makeup look matte is easier than you might think! First off, start with a good primer. This will help keep your foundation in place and control any oiliness. Look for a matte primer specifically, like the one from NYX or the one from Smashbox. They work wonders.Next up, reach for a mattifying foundation. Many brands have foundations made specifically for oily skin, like Maybelline's Fit Me Matte + Poreless or Revlon's ColorStay Liquid Makeup. Apply it with a makeup sponge for a flawless finish.To set everything in place, use a mattifying powder. Don't be afraid to go heavy on the powder, especially on your T-zone where oil tends to build up. I love the Coty Airspun Loose Face Powder or the Rimmel Stay Matte Pressed Powder.Lastly, keep blotting papers on hand throughout the day to touch up any shininess. And oh girl, don't forget to hydrate! Drinking plenty of water will help keep your skin balanced and prevent excess oil production. So there you go, girl! Follow these steps and you'll have a fabulously matte face that will make everyone jealous. Trust me, I'm a makeup junkie!
How do you get a matt finish on foundation?
Well, to get that smooth and matte look on your foundation, there are a few different products and techniques to try out. One of my go-to methods is to use a primer specifically formulated for oily skin. This not only helps to control shine throughout the day, but also creates a canvas for your foundation to adhere to and last longer. Next, when applying your foundation, try using a stippling brush or beauty sponge in a pressing motion rather than swiping or rubbing it into your skin. This will help to avoid any streaks or patches, and also help to mattify the finish. Another tip is to use a setting powder or spray that is labeled as matte or oil-free. This will help to lock in your foundation and take away any unwanted shine. Be careful not to overdo it though, as too much powder can actually make your makeup look cakey or heavy. Lastly, don't forget to address any oiliness or shine on your t-zone throughout the day. Keep blotting papers or mattifying wipes handy to quickly remove any excess oil or sweat. With these tips in mind, you should be able to achieve a smooth and matte finish on your foundation that lasts all day long!
How do you mattify oily skin with makeup?
Well, let me tell you, mattifying oily skin with makeup can definitely be a challenge, but it's definitely not impossible! First, I always start by prepping my skin with a mattifying primer to create a smooth and even base for my makeup. (Don't skimp on this step, trust me.) Next, I apply a lightweight, oil-free foundation using a damp beauty blender to create a natural and blended finish. I also like to use a lightweight powder to set my foundation and control any excess oil. But, here's where things get interesting…I recently discovered the power of using a tinted mattifying powder to touch up throughout the day. It not only helps to control oil, but provides additional coverage without adding any extra weight or texture to my makeup. And lastly, make sure to carry blotting papers or a travel-sized mattifying powder in your purse for those mid-day touchups. You got this!